After our first successful tournament which has been prized for its smooth organization, we are happy to announce the next Escalation Series tournament. The
Swiss Incursion
tournament is still a test event to iron out more options. Whats special about this tournament is the round structure. Instead of single elimination, where players are eliminated after one lost round, we will host a swiss tournament. The swiss systems lets everyone play for the full set of round, regardless of wins or losses.
Winning a round earns you three points, drawing a round (tie) earns both players one point. Sometimes players win rounds automatically due to an uneven number of participants, these wins are called "byes" and also count three points. Players are always paired against opponents with a close point rating, therefore the good players will eventually clash, while the learning players can duke it out on their own. Take note that two players can only meet each other once during the tournament, so you will get a new opponent every round.
By the end of the tournament the player with most points wins. Point ties will be resolved by Tiebreaker scores.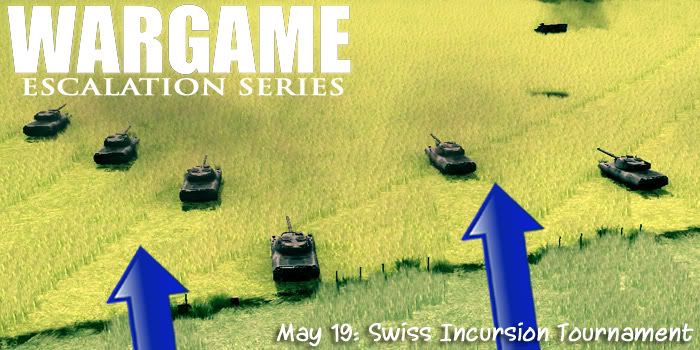 When:
Saturday, May 19 at 18:00 (CET)
Format:
1 vs. 1 swiss, 4-6 rounds (depending on turnout)
Maximum Player count:
32
Rounds:
Bo1 (see below for settings)
Prizes:
Bragging rights
Game Room settings:Battlefield:
Round 1: Storm Eye
Round 2: Dual Field
Round 3: Hammerhead
Round 4: Airfield
Round 5: Summer Night
Round 6: Straight Ahead
Max NB Players:
2
Type:
Confrontation, NATO or Pact as both players see fit
Points:
1500
Victory:
Time
Time:
25 minutes
In order to participate you need to be a member in the Steam group
Wargame Escalation Series
and have a Challonge account (login via Facebook possible). Here is the
challonge tournament page to register
for the
Swiss Incursion
tournament. Be sure to register with your ingame name, not your Steam name. The registration closes two hours before the tournament starts, at 16:00 (CET).
On the day of the tournament you need to show up in the Steam group chat 15 minutes BEFORE the tournament begins. Also, read the following rules carefully.
Rules:
No cheating via third party programs or by means of ingame exploits is allowed.
No shows will be disqualified.
Players are required to save replays and upload them on challonge.
Disconnecting players lose their rounds. The remaining player needs to contact the tournament officials and has to have the replay of the game at hand.
Any Victory type awards 3 points for the winner, draws award 1 point for both players.
Register now!
Why you should join tournaments even when playing for fun.
(article)
How to prepare for tournaments.
(article)