Major
Posts: 1893
Joined: Mon 16 Apr 2012 20:32
Location: Cloud covered peaks of Toronto
Contact:
kestrel1993 wrote:Terrible idea.

I would rather see v-94/osv-96 or ksvk 12.7 sniper rifle.
+1
---
Tiera wrote:

Finnish Lahti L-39 semi-automatic AA rifle - never forget #brokendreams #whyeugenwhy
Besides its qualities as a weapon, the L-39 had
the cutest skis ever made
.
But if one infantry 20mm were to be included in wargame, it would be this one :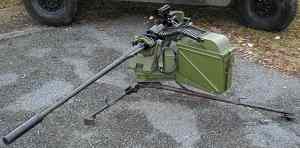 French M621 on tripod ; man-portable autocannon.
#frenchbias #unstoppablekiller
---
you realise these is not WW2 but cold war. why would anyone in the ussr use AT rifles if they got tons of old RPGs already that could be used by reservists instead.
Wargame 4 - Balkan at War - New Countries: Italy, Spain, Greece & Turkey versus Yugoslavia, Bulgaria, Hungary & Romania!
---
With spets VMF and spets GRU, USSR already has two unique sniper units. I don't think we need a third, obsolete one with a rifle that was pahsed out 20 years before RD's timeframe begins.
Alpha release. Click signature for more
---
---
Lieutenant General
Posts: 4428
Joined: Sun 28 Jul 2013 03:45
Contact:
Interesting idea however by the late 1960s we would probably see any number of old rpg's back to rpg-2, light recoilless rifles like the B-10 or SPG-82, or hand held grenades like the RPG-43 and RKG-3/E/EM. 14.5mm at rifles would be scraping the bare bottom of the barrel.
Projectnordic in game! will likely see you on pact/red dragons/french!
---
Major-General
Posts: 3911
Joined: Mon 31 Mar 2014 20:40
Location: Malton
Contact:
Znail wrote:

brroleg wrote:Additionally, what the hell are you smoking for your AP value?

Why would it be higher than the KPVT?

KPVT has general purpose ammo, antitank rifle has special armor piercing ammo.
Ok, this rifle can pen 40mm at 100m range and at AP 3 so can we find cannons that can pen 140mm at 1000m range. AP 1 would be a fair deal for this gun.
These type of guns works really well during WW2, but basic AP rounds doesn't cut it anymore and some form of APDS is needed.[/quote]
AT rifles sucked in ww2 they were unable to kill the lightest tanks reliably. Even anti tank guns such as the 2pdr (more powerful than most tank guns in 1939) rapidly became useless against the latest tanks like the panzer 4. All an anti tank rifle would do is slow down a squad and make them easier to kill.
---
Vulcan 607 wrote:AT rifles sucked in ww2 they were unable to kill the lightest tanks reliably.
KPVT now can kill light tanks in game, rear or side shot, or even at front from close range. And it uses exactly same round from old antitank rifle.
All it need is good ROF, good accuracy, and cheap unit inf with this weapon, so you can spam them, to make it playable in game.
Or just fix Metys atgm, make it missiles fly very fast, so its squad will not be stunned by return fire before missile hit
---
Master Sergeant
Posts: 166
Joined: Thu 1 Mar 2012 21:10
Location: CT, USA
Contact:
AT rifles as a dedicated anti armor weapon were obsolete by 1942. However, the Red Army continued using the PTRS and PTRD in assault units to kill MGs and the like hiding behind sandbags or inside buildings since the round could easily punch through these materials. Why we would have this in game when we already have things like the KPVT and DShK is beyond me.
---
kestrel1993 wrote:I would rather see v-94/osv-96 or ksvk 12.7 sniper rifle.
Or this. Give it to spetsnaz vmf, with 1400m range, 1HE power and 1AP power with KE, so it will shoot both infantry and light armored vehicles.
also to not waste vintorez, give it to gru, and sniper rifle from gru give to razvedka
---
Users browsing this forum: No registered users and 23 guests