Ok guys a total of 662 guys voted their brains out and this is your harvest.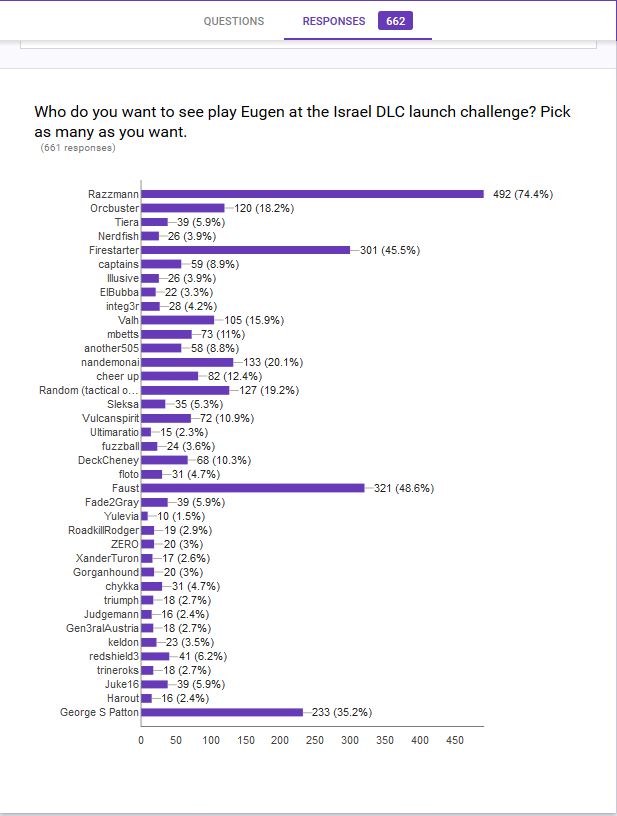 I'll list the 8 top people who are most likely to play against Eugen
1: So, In the lead by a fair margin we have razzmann with a total of 492 votes. Apparently sexy german accent does it for you guys. I see no other explanation.
2: Second is a dirty goddamn Reddit mod. But Faust is also Razzmanns waifu (But his heart is MINE I TELL YOU) so it's okay.
3: Every Feast needs a fair bit of Salt, although the potential amount Firestarter can bring to bear could kill. Let's keep him happy alright?
4: I'm not even going to comment on Patton. You guys brought this on yourselves. Democracy is a sham.
5: Another one of Razzmanns lovers at number 5. Yell NANDEMANN FOREVER to declare your OTP.
6: You know what? I refuse to further partake in this meme. Strategic Outmanouver is the new hot Random thing,
7: I didn't know you guys cared
Scrubbiest player on the list and possibly in all of wargame.
8: A trout. Also another filthy reddit mod.
So likely teamups are
Razzmann
Faust
Firestarter
Patton
for 4vs4 team 1
Nande
Random
Orcbuster
Valh
for team 2
For 3vs3 we have
Razzmann
Faust
Firestarter
For team 1
Patton
Nande
Random
For team 2
I hope you're happy with yourselves