---
No ja podejrzewam ulepszenie piech zmech do Tantala (wyższa celność) i RPG 7V. Wszystko za 15 punktów.
---
Sorry ale "rpg-rura" króluje do dziś w WP
więc historycznie to nie mieliśmy nic innego, co do lepszych głowic to dopiero od kilku lat są takowe powoli wprowadzane, a więc w latach 90-tych , niestety tylko "rpg-rura"
Ewentualnie RPG-76 "Komar"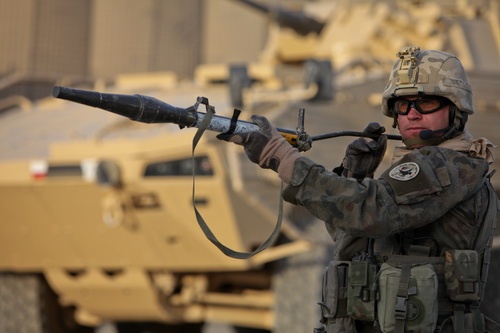 A co do Tantala, to on się nie przyjął, wszedł do służby w małej liczbie i szybko go wycofano.
Szkoda że rokiem "granicznym" jest 1995, bo teoretycznie do służby w 1996 roku wprowadzono pierwsze wersje Beryla, można by się pokusić że w 1995 roku był to prototyp.
No ale cieszy "Grom" jako manpad
Oby miał staty przynajmniej jak igla-2 po modernizacji.
Last edited by
gathern
on Mon 30 Jun 2014 17:56, edited 1 time in total.
---
Bwah... 20k Tantali wyprodukowano. Beryl był jego następcą tylko i wyłącznie dzięki temu, że korzystał z amunicji NATO, a nie Układu Warszawskiego.

Co do RPG to w alternatywnej rzeczywistości zawsze można kupić jakiś nowy pocisk czy coś.
---
Tantal bodajże to wz.1988 o ile pamiętam, gdy służyłem w 2001 w ramach zasadniczej służby nie widziałem na oczy tego "cuda", większość pododdziałów na których byłem i z którymi ćwiczyliśmy lub miałem styczność miała AKMS lub AKM (te były rzadziej spotykane).

No i powoli pokazywały się Beryle (początkowo dostawały je jedynie pierwszoliniowe wybrane jednostki).

Co ciekawe nadal na wyposażeniu były RPKS (nawet miałem przyjemność strzelać z tego karabinu - praktycznie to samo co AKMS, z tym że wydłużona lufa i pojemniejszy magazynek).
---
To by się zgadzało. 20k to nie mało, ale nie wystarczająco aby wyposażyć cała zasadniczą.
A, że była decyzja o przechodzeniu na kaliber natowski to i Beryle sie pojawiły. W grze sie nie pojawią
PS.
---
A Obywatel Marszałek nie może uchylić rąbka tajemnicy i powiedzieć, czy w wersjach nowoczesnych będzie coś innego niż zwykły RPG 7?
---
Będą nowsze pociski do siódemek. Z większą zawartością socjalizmu.
---
Z większą zawartością socjalizmu.
Śmiechłem mocno
---
REDDQ wrote:A Tantal?
Nawet jak dostaniemy Tantala, to chyba będzie to tylko kosmetyczna zmiana? Bo żaden z niego G-11, statsy się chyba nie zmienią?
Grabbed_by_the_Spets wrote:NEVA gonna give you up, NEVA gonna shoot you down, NEVA gonna turn around... And burn you!

NEVA gonna make you cry, NEVA gonna say goodbye, NEVA gonna have you fry, and hurt you...
---
Users browsing this forum: No registered users and 2 guests