Hello everyone,
December will be a busy month on
Steel Division: Normandy 44
. Here's what's to come: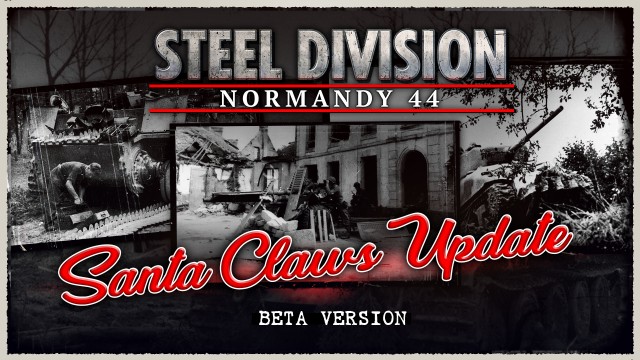 Thursday, December 7th: "Santa Claws" update beta
Since the release of the game in May, we have been listening very carefully to every comment made on the game. Forums, social channels, emails, reviews, survey made by and taken by our community... We already have released lots of free content and features to the game, including game modes, units, battlefields, dedicated servers, and more.
The next
Steel Division: Normandy 44
update, "Santa Claws", will feature some significant meta changes, which aim to allow more tactical freedom, to increase the pace of the battles, and to make the game feel more authentic. As the changes are pretty heavy, we will make the beta version of this update available on Steam for everyone.
In a few words, here are the changes you'll be able to test in this beta:
Vehicles will be able to go through forests & hedgerows (at your own risk, the penatly will be quite severe)

Vehicles' critical hits will be repairable by supply units

Light AT units (up to 57mm) will now be able to enter buildings

Reworked global damage & critical hit systems

Decreased plane resistance (especially on bigger planes like J88 or B26)

Adjusted vehicle off-road speed (concerns about 80% of the vehicles)

Increased Short/Mid range precision
As you can imagine, your feedback on this beta will be
extremely
important to us, and you'll be able to tell us what you think about these changes through a survey, available from Friday, December 8th.
The beta and the survey will be accessible to everyone until Monday, December 11th.
Thursday, December 21st: ranked leaderboard reset
We are rebooting the ranked leaderboard on December 21st at 10AM CEST, which means
this time for you
. Online services won't be available for about an hour.
Thursday, December 21st: "Santa Claws" update release
Alongside the above-mentioned changes (well... if you like it), we're also working on some requested features, such as an active pause, private 2v2 breakthrough games, moddable DLC, and more.
Thursday, December 21st: Christmas Event Kickoff
Have you been good this year? We'll see...
So, stay tuned!