"Closer", the next free update for Steel Division: Normandy 44, will be available on September 21st, alongside the
Second Wave DLC
.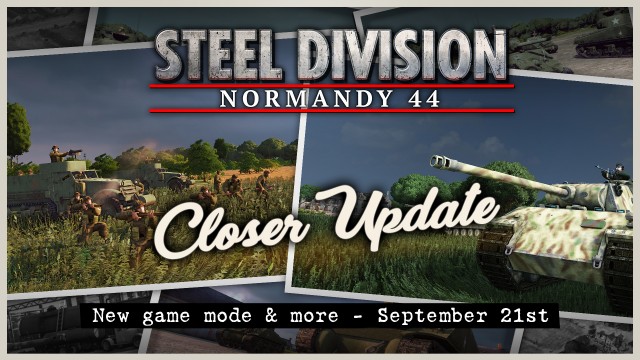 Here's the content of this upcoming update, still developed with the help of selected members of our community:
New game mode: "Closer Combat", as announced in the content roadmap. Do you want to know more about this one? Well, just check the full announcement on Steam!
Remastered first campaign mission: we have made some serious adjustments to make it a bit more accessible for newcomers. It kinda felt a bit too much stressful and complex for a first mission. The first timer to seize Audouville has been removed, there is now one single deployment zone, and the general pace of the mission has been revamped. Don't worry, completing the secondary objectives are still a good challenge, and the other missions of the campaign remain unchanged.
New shortcut to toggle "Slow-mo" in Single Player: No need to click like hell to get more time to plan your actions, just press a key ("P" or "K", depending on your profile, can be changed in the options), and you're all set.
Official servers for 4v4 games, to help reducing lags induced by the peer-to-peer mode.
More balancing, more bug fixing...
Just 6 days left until the release of this fifth update and
Steel Division: Normandy 44 - Second Wave DLC
. In the meantime, you could keep an eye on Youtube/Twitch, I've heard some streamers and youtubers will have the opportunity to get their hands on this new mode...