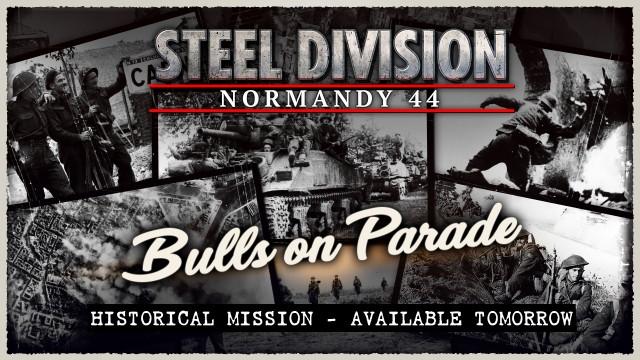 The next update for
Steel Division: Normandy 44
, "Bulls on Parade", will be available tomorrow, at the same time as the
Back to Hell
DLC, and will feature the long-awaited Free Historical Mission! Let's have a sneak peek.
Free Historical Mission

: Operation Atlantic
Playable in 2v2 multiplayer, solo and coop, it covers the Canadian contribution to the larger British
Operation Goodwood
and features, for the very first time in Steel Division: Normandy 44, the
11th "Black Bull" Armoured Division
, cooperating with the 3rd Canadian Infantry Division to capture the Steel Mill and the Escoville & Giberville villages from the hands of the 16. Luftwaffe & the 21. Panzer divisions.
In historical missions, divisions and battlegroups are set, and you will have to use the complementarity of your divisions to seize the mission's objectives and win the battle. Each Historical Mission -this one included- comes with documentation describing the mission's context and its actual outcome in 1944, as well as its own Steam achievement.
If you wish to know more about historical missions, don't hestitate to check
this blog post
.
New features
:
We've added a couple of requested features:
Random map option in the lobby: pretty self-explanatory, with this option selected, the game will randomly pick a map for you.

Filter in the battlegroup list: you'll be able to display all your battlegroups, or to only display Breakthrough or Normal battlegroups.

Rebindable Situation Awareness key: for the ones who'd like to use the spacebar to... let's say... toggle the active pause, for example.
The patch will also feature some balancing and, as always, the traditional bug fixes.
See you tomorrow!