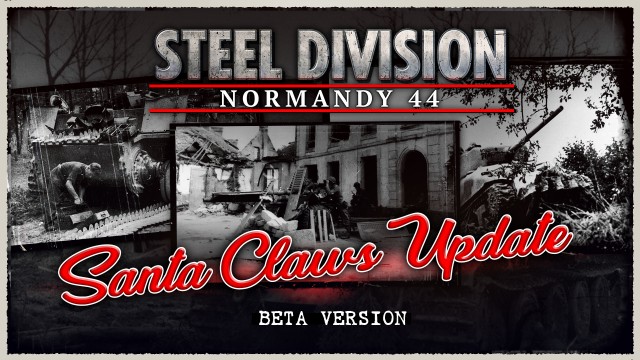 As announced in the
December Program
, you can now download the "Santa Claws" public beta!
Here are the changes you'll be able to test in this beta:
Vehicles can now go through forests & hedgerows, but have a severe speed penalty, and armed vehicles are not able to shoot for 5 seconds.

Vehicles' critical hits can now be repaired, by supply units only.

Light AT units (up to 57mm) can now enter buildings.

Decreased plane resistance, especially on bigger planes like J88 or B26.

Adjusted vehicle off-road speed, concerning about 80% of the vehicles

Reworked damage & critical hit systems

Increased Short/Mid range precision
How to download the beta:
Go on your Steam Client

Right-click on "Steel Division: Normandy 44"

Select "Properties"

Click on the "BETAS" tab

Select the "santa_claws_beta", then click on "Close"
If you're experiencing any issue with the beta, just do the same process and switch back to "NONE" in the "BETAS" tab.
Send us your feedback!
As you can imagine, your feedback is essential for us. When you feel that you have played enough, please take 5 minutes to
answer this survey
. Take your time, there's absolutely no rush.
Known issues that will be fixed in the final version:
Repairing time may be bugged on a vehicle that suffers several critical damages at the same time.

Bailed out units might be stationary moving or keep moving their turrets.

Some texts in English do not already have their translations in other languages.
The beta and the survey will be accessible to everyone until Monday, December 11th.
Thank you all for your help, and, the most important, have fun!