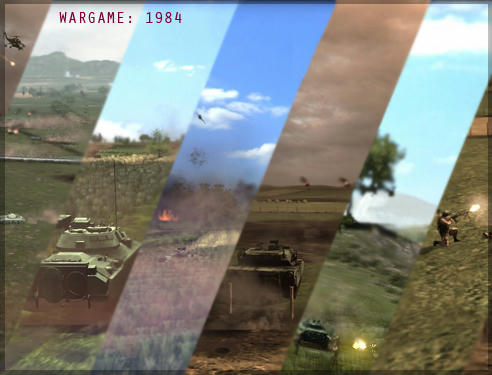 version 0.4c
DOWNLOAD HERE
-
http://www.mediafire.com/download/1rreo1f4216517t/1984-v04c.rar
STEAM GROUP
-
http://steamcommunity.com/groups/W1984
Greetings. This a Wargame:1984.
Less is the new better.
Features:
- LESS units. I've cut down the selection to just around 30 units per nation and 2 nations initially.
- LESS deck customization options. No mixed decks. No categories. Less types.
- LESS stat diversity. Unique speeds? Fuel ranges? Different small arms stats? Forget about them.
- LESS speed. Units are moving 50-70km/h even on roads. They take 3-5 second to aim and 10-15 second to reload. Artillery aim for almost a minute. Aircraft appear 2-3 times in the whole game at best.
- LESS moments of fun. Infantry hopping thorugh districts and covering a city in a few seconds? KPVT annihilating a tank through frontal armor? Recon by empty trucks? Everything mercilessly slaughtered.
INSTALLATION INSTRUCTIONS
0.)
WARNING!
This mod, as any other,
is very likely to corrupt your decks upon launch
. If you don't want to lose your decks, go to \Steam\userdata\<unique ID of your player profile>\ and back-up the 222750 folder there. After you finish using the mod and restore the original files, just restore your back-up.
There should probably be only a single folder with <unique ID of your player profile>, but if there are several - better play safe and back-up 222750 folders in each of them.
1.) Extract the mod archive into the main game folder, which should be \Steam\steamapps\common\Wargame Airland Battle, confirm the replacement of files.
2.) Go to \Steam\steamapps\common\Wargame Airland Battle\Data\PC\2100001576, copy the Wargame.exe here and copy it into the main game folder, replacing the Wargame.exe here.
To revert the changes, open up Steam, go to Library, right-click on Wargame: Airland Battle, go to Properties -> Local Files -> Verify Integrity of Game Cache. Steam than will check your game, and replace all modified files with the original versions.
WARNING!
0.) It's BETA - bugs and mistakes are to be expected.
1.) Mod is not intended to be played against AI. It works, but mainly to test new weapons, nothing more.
2.) Mod currently does not support Destruction game mode. Eventually it will, though.
3.) Armory displays are not really informative in regards to unit capabilities. They don't display aim times, optics display is too abstracted, ROF is broken in many cases, many important weapon stats are not displayed and so on and so on. Refer to mod manual to understand the unit capabilities.
Spoiler : GLOBAL CHANGES :
Spoiler : Certain national peculiarities :
Spoiler : CLASS changes :